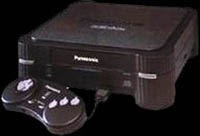 PANASONIC FZ-1 3DO SPECIFICATIONS:
CPU: 32 BIT RISC PROCESSOR ARM60 (12.5MHZ)
CUSTOM CHIPS: TWIN GRAPHICS ANIMATION ENGINES
DIRECT MEMORY ACCESS ENGINE: (50MB/SEC)
16BIT CUSTOM DSP (AUDIO)
MEMORY: 3MB (2MB DRAM, 1MB VRAM)
1MB ROM
SAVE GAME FACILITY: 32KB NVRAM
VIDEO OUTPUT: COMPOSITE VIDEO, S-VIDEO, RF VIDEO
SCREEN RESOLUTION 768X576 PIXELS
COLOURS: 16.7 MILLION MAXIMUM, 32,000 STANDARD
AUDIO: STEREO 16BIT PCM (SAMPLING 44.1KHZ)
STORAGE: DOUBLE SPEED CD-ROM DRIVE
CONTROL PORTS: ONE LOW SPEED, DSUB-P PIN PORT
EXPANSION PORTS: ONE HIGH SPEED I/O: 3.0 PIN X 1
AV EXPANSION PORT: HIGH SPEED AV-I/O (MPEG VIDEO CD ADAPTOR) 68 PIN X 1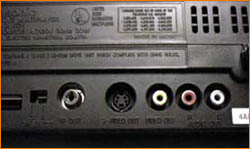 Killing the competition 3DO is a tank cruising down video game history and blowing up a few things along the way (like angry parents for yelling at them for making AO titles) but it kept chuggin' it seemed unstoppable in it's day with it's 3D graphics, CD sound, and some cool games. It was even designed to be upgraded into an even more powerful machine(i.e. the M2) but this never succeeded. This was also the brick wall in the 3DO tanks way. Cruising straight for it not knowing just how much ammo was left and if there was enough to blow it away. 3DO began firing, Panasonic sold M2 to electronics giant Matushita (or something like that), this was supposed to be extra ammo for the tank but it turned out there was really nothing but blanks left. The tank had made dents in the brick wall but hadn't blasted through. Blasted just enough to see through to the other side. The other side was the glory of being successful and being the most popular gaming platform ever but instead of all this 3DO's tank crashed and burned.

© 2001 by "3DO 4 Life". All rights reserved.